Diamond Cut Guides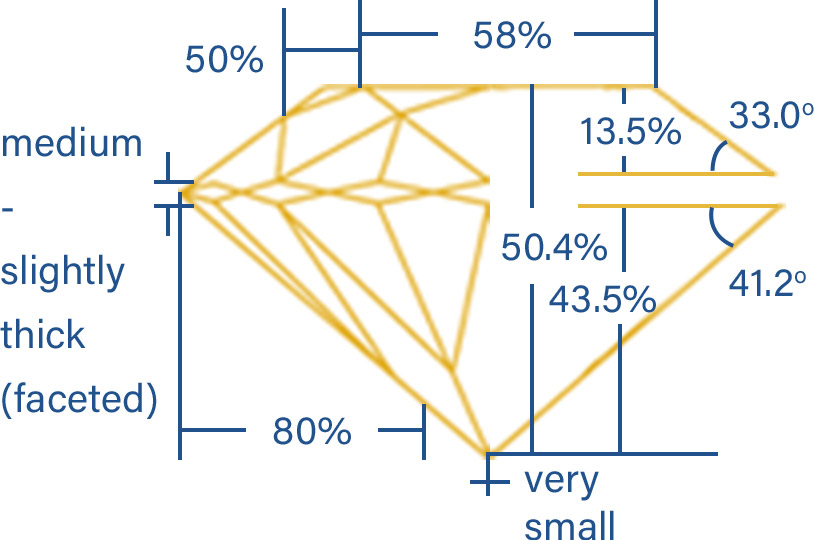 The beauty of a diamond depends more on cut than any other factor. Diamond cut has three primary effects on appearance: brilliance (the brightness created by the combination of all the white light reflections from the surface and the inside of a polished diamond), fire (the dispersion of light into the colors of the visible spectrum, seen as flashes of color), and scintillation (the flashes of light and dark, or sparkle, when a diamond or light source is moved).
When a diamond is fashioned from a rough stone, the cutter must balance optimal cut (and therefore appearance) against maximum yield (cutting the diamond to maintain as much carat weight from the rough stone as possible). Because many customers are willing to pay more for a larger, fair-cut cut diamond than for a slightly smaller, well-cut diamond, there is pressure on the cutter to sacrifice appearance for weight. This is why the cut is so important.
For the larger and more expensive diamonds dealers will be willing to provide more detailed grading reports with diagrams ,as above,showing proportions of the diamond.Use the tables below to ensure you are getting the best value for money.
ROUND DIAMOND - CUT GUIDE
EXCELLENT
VERY GOOD
GOOD
FAIR
POOR
Table %
53 – 58
52 – 53

or

58 – 60

51

or

61 – 64

50

or

65 – 69

< 50

or

> 69

Depth %
59 – 62.3
58 – 58.9

or

62.4 – 63.5

57.5 – 57.9

or

63.6 – 64.1

56.5 – 57.4

or

64.2 – 65

< 56.5

or

> 65

Crown Angle
34 – 34.9
32.1 – 33.9

or

35 – 35.9

30.1 – 32

or

36 – 37.9

29 – 30

or

38 – 40.5

< 29

or

> 40.5

Pavilion Depth
42.8 – 43.2
42 – 42.7

or

43.3 – 43.9

41 – 41.9

or

44 – 45.5

39 – 40.9

or

45.6 – 48

< 39

or

> 48

Girdle
Thin

to

Sl. Thick

Very Thin

to

Sl. Thick

Very Thin

to

Thick

Very Thin

to

Very Thick

Ex. Thin

to

Ex. Thick

Culet
None
Very Small
Small
Medium
> Medium
L/W Ratio
1.00 – 1.01
1.02
> 1.02
PRINCESS CUT DIAMOND - CUT GUIDE
EXCELLENT
VERY GOOD
GOOD
FAIR
POOR
Table %
62 – 70
59 – 61

or

71 – 74

56 – 58

or

75 – 82

53 – 55

or

83 – 85

< 53

or

> 85

Depth %
64 – 75
58 – 63.9

or

75.1 – 80

56 – 57.9

or

80.1 – 84

< 56

or

> 84

Girdle
Very Thin – Slightly Thick
Very Thin

to

Thick

Very Thin

to

Very Thick

Ex. Thin

to

Ex. Thick

Culet
None
Very Small
Small
Medium
> Medium
L/W Ratio
1.00 – 1.03
1.04 – 1.05
1.06 – 1.08
> 1.08
OVAL DIAMONDS - CUT GUIDE
EXCELLENT
VERY GOOD
GOOD
FAIR
POOR
Table %
53 – 63
52

or

64 – 65

51

or

66 – 68

50

or

69 – 70

< 50

or

> 70

Depth %
58 – 62
56 – 57.9

or

62.1 – 66

53 – 55.9

or

66.1 – 71

50 – 52.9

or

71.1 – 74

< 50

or

> 74

Girdle
Very Thin – Slightly Thick
Very Thin

to

Thick

Very Thin

to

Very Thick

Ex. Thin

to

Ex. Thick

Culet
None
Very Small
Small
Medium
> Medium
L/W Ratio
1.35 – 1.50
1.30 – 1.34

or

1.51 – 1.55

1.25 – 1.29

or

1.56 – 1.60

1.20 – 1.24

or

1.61 – 1.65

> 1.20

or

< 1.65
MARQUISE DIAMONDS - CUT GUIDE
EXCELLENT
VERY GOOD
GOOD
FAIR
POOR
Table %
53 – 63
52

or

64 – 65

51

or

66 – 68

50

or

69 – 70

< 50

or

> 70

Depth %
58 – 62
56 – 57.9

or

62.1 – 66

53 – 55.9

or

66.1 – 71

50 – 52.9

or

71.1 – 74

< 50

or

> 74

Girdle
Very Thin – Slightly Thick
Very Thin

to

Thick

Very Thin

to

Very Thick

Ex. Thin

to

Ex. Thick

Culet
None
Very Small
Small
Medium
> Medium
L/W Ratio
1.85 – 2.00
1.75 – 1.84

or

2.01 – 2.15

1.65 – 1.74

or

2.16 – 2.30

1.55 – 1.64

or

2.31 – 2.45

> 1.55

or

< 2.45
PEAR SHAPED DIAMOND - CUT GUIDE
EXCELLENT
VERY GOOD
GOOD
FAIR
POOR
Table %
53 – 63
52

or

64 – 65

51

or

66 – 68

50

or

69 – 70

< 50

or

> 70

Depth %
58 – 62
56 – 57.9

or

62.1 – 66

53 – 55.9

or

66.1 – 71

50 – 52.9

or

71.1 – 74

< 50

or

> 74

Girdle
Very Thin – Slightly Thick
Very Thin

to

Thick

Very Thin

to

Very Thick

Ex. Thin

to

Ex. Thick

Culet
None
Very Small
Small
Medium
> Medium
L/W Ratio
1.45 – 1.55
1.40 – 1.44

or

1.56 – 1.65

1.35 – 1.39

or

1.66 – 1.80

1.25 – 1.34

or

1.81 – 2.00

> 1.25

or

< 2.00
CUSHION CUT DIAMOND - CUT GUIDE
EXCELLENT
VERY GOOD
GOOD
FAIR
POOR
Table %
61 – 67
58 – 60

or

68 – 70

56 – 57

or

71

54 – 55

or

72 – 73

< 54

or

> 73

Depth %
61 – 67
58 – 60.9

or

67.1 – 70

56 – 57.9

or

70.1 – 71

54 – 55.9

or

71.1 – 73

< 54

or

> 73

Girdle
Very Thin – Slightly Thick
Very Thin

to

Thick

Very Thin

to

Very Thick

Ex. Thin

to

Ex. Thick

Culet
None
Very Small
Small
Medium
> Medium
EMERALD CUT DIAMOND - CUT GUIDE
EXCELLENT
VERY GOOD
GOOD
FAIR
POOR
Table %
61 – 69
57 – 60

or

70 – 72

54 – 56

or

73 – 74

51 – 53

or

75 – 79

< 51

or

> 79

Depth %
61 – 67
59 – 60.9

or

67.1 – 70

57 – 58.9

or

70.1 – 74

54 – 56.9

or

74.1 – 79

< 54

or

> 79

Girdle
Very Thin – Slightly Thick
Very Thin

to

Thick

Very Thin

to

Very Thick

Ex. Thin

to

Ex. Thick

Culet
None
Very Small
Small
Medium
> Medium
ASSCHER CUT DIAMOND - CUT GUIDE
EXCELLENT
VERY GOOD
GOOD
FAIR
POOR
Table %
61 – 69
57 – 60

or

70 – 72

54 – 56

or

73 – 74

51 – 53

or

75 – 79

< 51

or

> 79

Depth %
61 – 67
59 – 60.9

or

67.1 – 70

57 – 58.9

or

70.1 – 74

54 – 56.9

or

74.1 – 79

< 54

or

> 79

Girdle
Very Thin – Slightly Thick
Very Thin

to

Thick

Very Thin

to

Very Thick

Ex. Thin

to

Ex. Thick

Culet
None
Very Small
Small
Medium
> Medium
L/W Ratio
1.00 – 1.03
1.04 – 1.05
1.06 – 1.08
> 1.08
RADIANT CUT DIAMOND - CUT GUIDE
EXCELLENT
VERY GOOD
GOOD
FAIR
POOR
Table %
61 – 69
57 – 60

or

70 – 72

54 – 56

or

73 – 74

51 – 53

or

75 – 79

< 51

or

> 79

Depth %
61 – 67
59 – 60.9

or

67.1 – 70

57 – 58.9

or

70.1 – 74

54 – 56.9

or

74.1 – 79

< 54

or

> 79

Girdle
Very Thin – Slightly Thick
Very Thin

to

Thick

Very Thin

to

Very Thick

Ex. Thin

to

Ex. Thick

Culet
None
Very Small
Small
Medium
> Medium
HEART SHAPED DIAMOND - CUT GUIDE
EXCELLENT
VERY GOOD
GOOD
FAIR
POOR
Table %
53 – 63
52

or

64 – 65

51

or

66 – 68

50

or

69 – 70

< 50

or

> 70

Depth %
58 – 62
56 – 57.9

or

62.1 – 66

53 – 55.9

or

66.1 – 71

50 – 52.9

or

71.1 – 74

< 50

or

> 74

Girdle
Very Thin – Slightly Thick
Very Thin

to

Thick

Very Thin

to

Very Thick

Ex. Thin

to

Ex. Thick

Culet
None
Very Small
Small
Medium
> Medium
L/W Ratio
.95 – 1.02
.89 – .94

or

1.03 – 1.05

.83 – .87

or

1.06 – 1.10

.80 – .83

or

1.11 – 1.15

> .80

or

< 1.15